Discover. Ask. Get Insight.
Your new go-to collective decision-making social media app made to help you with your everyday life decisions. Because making a decision shouldn't be this stressful.
How It Works
Onepick is your next-generation trustworthy platform.
Content sharing
Pickers create a pick (photo, video, question), and ask the onepick trusted community to help them make a choice.
Content Discovery
As a Picker, discover infinite content and brands. Help millions of users come to a decision, share your suggestions and be part of brands creative process. Share your taste, genuine insight and make your pick.
Data Studio
Onepick provides up-to-date data and data analytics for businesses. Identify the core problem areas and come up with a better-refined vision.
Features
Your next-generation trustworthy platform.
App Demo
A sneak-peek into the Onepick universe.
Invite your friends, find new friends.

Create a pick, upload a photo, a video, a link or a choice.

Access all insights though your Data studio.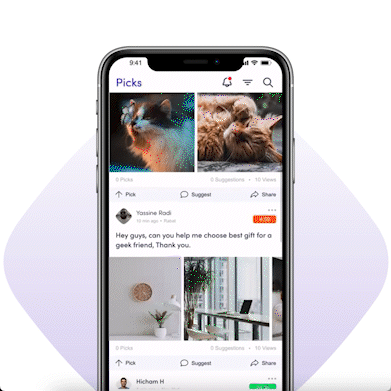 Android & iOS App
Don't worry the wait is almost over. Enter your email address below and you will soon hear from us.